Sabra-Sabre Meeting Luxemburg (23/12/08 )
September, 21-22 2002 the RSSOC organised the meeting in Luxemburg
The local organisation was arranged by Robert Brandy, artist and veteran car enthusiastic.
He invited us to the: Sieweburen Hotel
Famille Ewen
36, Rue des Septfontaines
L-5234 Luxembourg - Rollingergrund,
Tel: 0353 44 23 56
Fax: 0352 44 23 53
E-mail: siewebur@pt.lu
Not all bookings were made early enough so even though some of the bookings had been made iin June, the hotel was full for our weekend in September.
Good thing that Robert could arrange other near-by hotels for late applicants!
Saturday september 21, top down and on our way. We were to meet Jacques along the highway. By 10.15 two Sabras were heading in convoy to the South-East.
Close to Luxemburg we did some unwanted sight-seeing before we found the hotel (twice we were as close as 100 yards but took the wrong turn!)
Six Sabra/e's in a row. Hi Adrian and June, Hi Geoff, Hi Tony and Jaki, Hi Robert, Hi Jean, working on Tony's cooling fan - immediately we feel between peers.
Oh Tony brought along the tap and die set, and a catalogue from Machine Mart: 100 pages of tools!
Oh yes, must hand the decoke set to Jacques.
Well everyone we new from Reims was there but as we went into the hotel for a quick lunch, suddenly a seventh Sabre arrived - a latecomer to our meeting - eventually he'll attend to the meeting?
A nice red coloured car owned by Malcolm and Val and the first time Malcolm has seen a Sabre other than his own.
Quick - so to say - lunch, and on to Luxemburg we went.

Tony, Jean, Geoff, Adrian, Robert, Jef (pleased to be parked between beautys), Jacques
Parked in Luxemburg: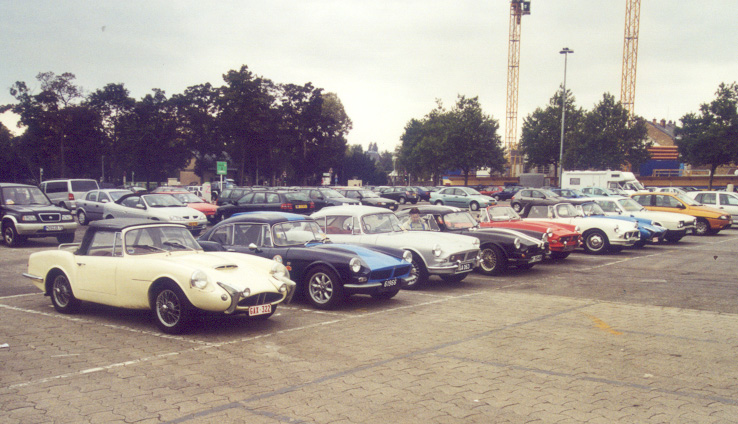 You see Malcolm's (red) car as extra - it's a little shy between all these new brothers and sisters
Robert had arranged a tour of Luxemburg-city with a professional guide. Because quite a part of the tour would be leading through small stairs, high ups and downs, Adrian and June decided to make their own tour not having to climb in and out of stairs and dungeons. Result is that Adrian, not hampered by the interesting explanations of the guide, has made a fine photo-report of Luxemburg: see (Adrian's report).
Click to enlarge:
We must admit that we seriously neglected our role as photo-reporter.
After the guided tour we had a drink "To you Robert"; forgotten to make pictures.
Afterwards we drove to Robert's studio where several wonderful Austin Healeys reside, nice working place too. Several Scimitar owners dropped by. Again too busy to make photographs.. stole one from Adrian.
Back to the hotel for supper, one notices to be between France, Belgium and Germany; the large portions are certainly German.
september 22, 2002
Next morning: breakfast, all filled the tanks and up to a fine tour to the North-East -> Vianden. Robert has selected small safe roads but with loads of nice curves. Warnings on the road-book for fallen leaves didn't hold us back from pushing the right pedal deeper than necessary, according to the saying: "the front of a car is steered by the steering wheel, the rear is steared by the throttle".
Stopped near Esch-sur-Süre, had a walk and a drink, and for the first time I got an good explanation (that I understand) why an engine with too poor a mixture overheats and burnes the valves (by Jean Kesseler - is there something about cars that this man cannot explain?).
From here to Vianden it started raining - no problem - but Jaki Heath was driving in first position - big problem. A man ( perhaps Tony can) cannot admit that he has problems to follow a woman in a car, so my problems were due to the problems with the steering gear I have, to my over thirty years old tires, to the lack of power in the Sabra compared to a Scimitar, and many other things. I followed, but Els told me several times that there was no hurry??? several times I had to do quite some steering on the rear.
Vianden: havy rain (for us - perhaps not for Brittans); again a huge lunch (this will take quite some weight-watching the next weeks) and Jacques, bound to work on monday, left us for the North. After a visit to the castle in Vianden we headed South again to the hotel (to remind you: still almost no picture taken).
To Adrians delight, visited him in his hotel (again a meal). A whole evening spent on talking about cars, there should be a way to download Jean Keseler's knowledge into ... would only fit into another human brain.
Next morning bye-bye to everyone: Robert, merci pour la splendide organisation et pour la réception cordiale. Bye Jean, Adrian & June, Tony & Jaki, Geoff (had a nice talk), Malcolm & Val. See you next year in Kent?
To compensate for the poor pictures-report (not even a picture of our host!):