Meeting 26-28/06/2009 (12.08.2009 )
Organised by the RSSOC in Trier
---
The Sabra was ready for th trip, we'd drive over Diekirch: I had some spare parts for Peter and he had some spare parts for Jacques, Jacques didn't attend to the meting but he drove over to Switserland to pick up moulds for the Sabra lens caps. Had a nice talk with Peter & Mariëtte en then continued on to Trier. First filled up in Wasserbillig. Our satnav led us directly to Hotel Blesius-Garten. Click the picture to go to the hotel's site.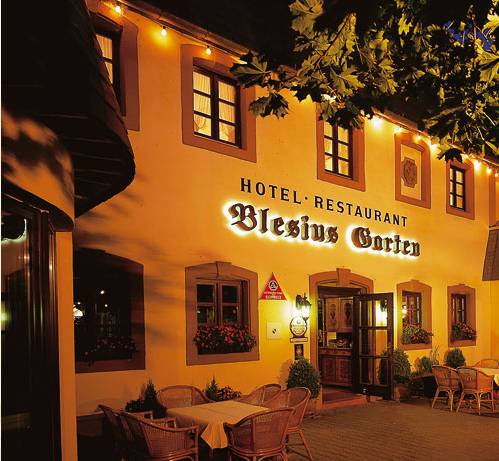 Having started 26/06 in Gierle we didn't encounter problems. In the hotel we see lots of well-known faces, seems there's a hard core of die-hards that one sees everytime. Martin Veltman is there & Myrna, and Geoff Cooper, Peter Freeman, Patrick Gundry, Erik Hofman, Geoff Eldridge, the Danish couple is also here, we met in Troyes.
Next morning (27/06) early we drove off for the rally. The rally is just an excuse to have the drivers do a well selected parcours through the region.
Visited a butterfly farm, never seen, nice. (Click to visit)
Visited the Bernard Massard caves with the obligatory visit & dégustation.

Nice roads, well selected. The roadbook had been quickly patched for roadworks, that eventually were done before we arrived. Those things will happen: in our Antwerp meeting 2008 I was forced to make a detour off the roadbook by a sudden strike the night before we started.
Then we visited the Mabilon bell foundry. Intersting, always thought that a bell was founded for a specific tone but had to be adjusted when the bronze had hardened.
Learned that every specialist hears it if a clock was well founded or afterwards adjusted. Normal procedure if the tone isn't completely right.... try again.
After the hill-climb, nice gearbox that ZF, handed over the answerring forms and had a good German lunch, friendly servants.
Quite a shower when we were back in the hotel.

Saturday evening we had the fixed program: dinner (I'll remember the Riesling-creamsoupe, tried it at home later), and trophys for....
Sunday we did a trip on the Mosel, interesting idea in fact: we have a "meeting" but most of the time every indivual, or every team is driving around on his own, in his own individual car. The date of next year's meeting is set at June 18-20, 2010, for the time being; still a small possibility it might change .
Later in the afternoon some people were leaving, but for the people that stayed for the night Malcolm and Angie had organised a trip in a touristic train through Trier.
Last night in the nice hotel, next years meeting will be in Holland, and perhaps Malcolm & Angie are still willing to organise the 2011-meeting? Cadzand is good for us... really close to Antwerp. And it isn't always easy to find people that want to go through all that effort.
Monday we did a short trip to the French Champain region, met André & Carine and Tony & Jaki - they kept their secrets about the September-Sabra/Sabre-meeting!
On our way home passed with Jacques' place. We really had a good time this RSSOC weekend: we should do some more efforts to be there next years.

Look at the pictures on PICASA: click the butterfly: