Meeting 21-22/06/2003 (23.12.2008 )
Organised by the RSSOC in France
Should I pay more attention to my presentiments? Checked the car better than ever, and first time ever bought me a travel-insurance.
Still the Sabra seemed to be ready for the trip. Had contacted Jean Pigeon (we met him at the Dinant International - nice red Sabra), I was going to phone him when we were near Dinant so we could make a rendez-vous at a fuelling-station.
I wanted to show him my new spax front dampers so that he could really see and feel the pro's and contra's before he would buy them on my advise. My French isn't up to explaining that kind of technical differences when I cannot point at the parts where I'm talking about.
We got on the road (hood down) at 10:30 on Friday 17 and were close to Dinant when Els realised she had forgotten her mobile. We had planned to take fuel at a Q8-station near Ciney where we intended to meet Jean Pigeon (after we had called him).
We couldn't find the fuel-station, got lost, and decided at last to drive to Dinant, take in fuel anyplace and phone from the fuel-station to Mr Pigeon to apologise for the missed appointment.
Afterwards everything went fine, Els had chosen this route to Toyes because there was quite some "green" on the map, i.e. we did parts of the Dinant-2003-roads again. Shortly after we reached the French border we entered the Champagne-region with rolling fields and small villages at great distances. As in France you read the maximum speed of 90 as 110 our average speed increased compared with the Ardennes-part of the trip. Warm but cloudy weather, only at about 3:30 pm the sun broke through the clouds. Wonderfull car this Sabra: the cooling-fan got on after the steeper climbs when the temp-gauge showed little over 90, but turned off quickly, same in the villages where French drivers stuck close to the allowed 50km/h. Oil pressure fine, should give the engine a slightly richer mixture as there are slight claps in the outlet when I'm using my engine for braking. I adjusted timing so it must be the mixture being too poor.
Ah and Els is getting acquinted with Michelin-maps, I get more hints and clues: "We'll be crossing a railroad, twice over a river!"
In Troyes the fuel gauge shows very low - as it should. After refuelling (23 liter: seems OK according to the gauge), as we're getting keen with maps we take the shortest road to the hotel.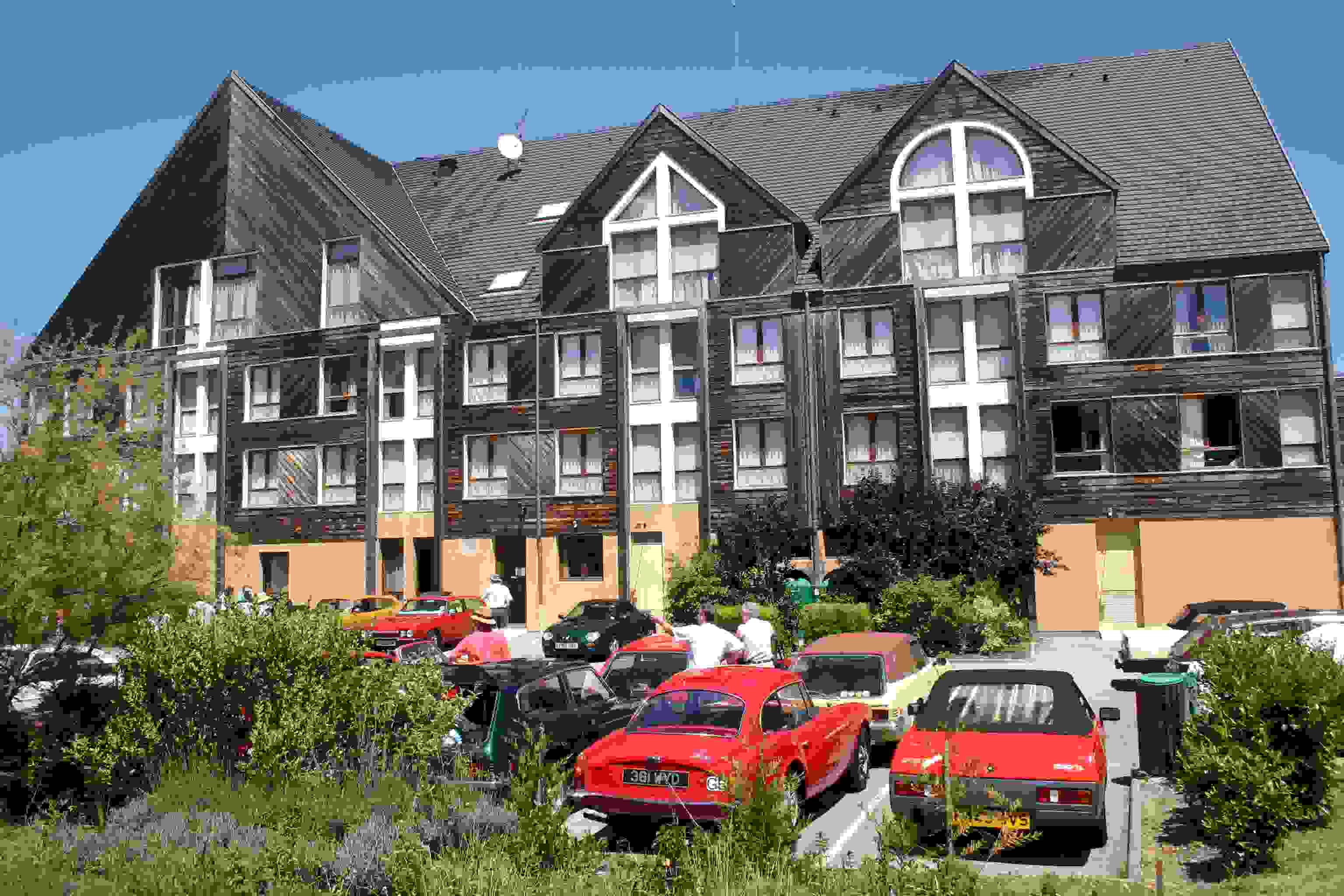 We arrive at the parking of the hotel and there Patrick Gundry is waving at us. He was just explaining the history of Reliant to a reporter and we arrived just in time so he could say "This was the first four-wheeled car". And there's Geoff Cooper, and Geoff Eldridge and Pam
First time I really have a look at Geoff Cooper's coupe, quite some modifications, interesting car. Must take a picture of it.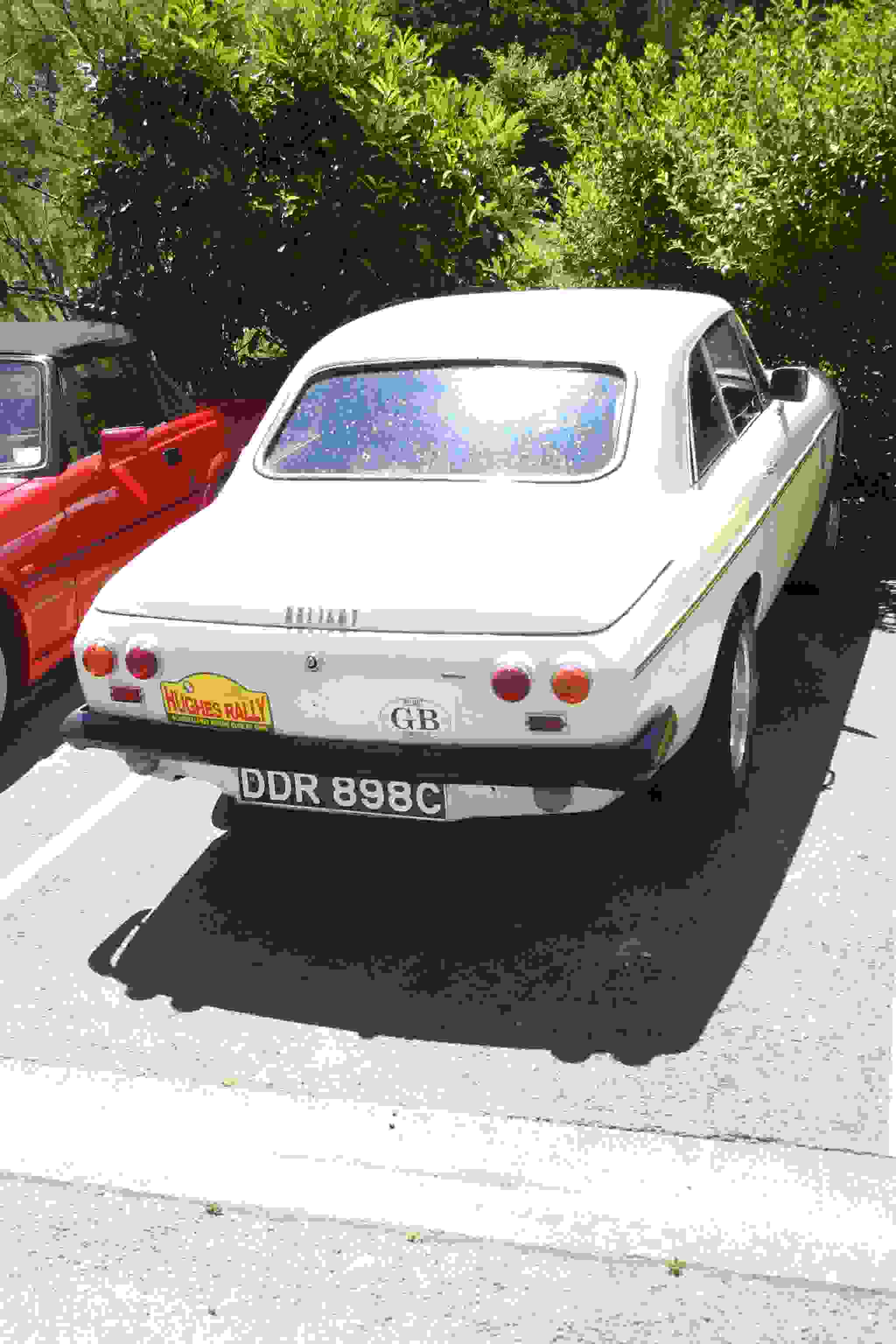 We park the car, check in and we can taste the Belgian beers, Geoff has made a good choice with this hotel.
Only one Dutchman, Martin Veltman, so Eric Hoffman didn't find a pilot to take him here. The second Belgian, Jacques arrives much earlyer than expected. He and Michelle had to go to work before noon.
Next morning wake-up early and on the road for the rally. We don't frequently do these rallys anymore in Belgium as looking for pictures while driving is getting risky, no problems though in the Champagne-region. Indeed petrol stations and places to refresh are scarce over here but they picked out the nicest roads and here east of Troyes there's a little more relief and variety in the landscape.
In fact the rally (with questions) is just an excuse to let people make a nice drive over nice roads with beautyfull panorama's. Some steeper climbs over winding roads are a must to enhance driving pleasure.
Back at the hotel, turned in our answer-book and had a fine extensive lunch, This is France: they force you to take your time between two courses, and as the food is splendid you accept that the "chef" must have the time to prepare everything in the most delicious way, the servants are friendly and helpfull (though young and little experienced). The situation brings you in a state of "ease" and comfort. Every visit to France again you learn that to enjoy a meal - or life - you have to take your time, forget hurry's and worries and enjoy your food, and your company, the present moment and your future and your past.... this is philosophy (Southern philosophy)!
Afternoon, in convoy after Tony Heath (and behind a tractor laden with hay) to the champagne-house "Chassenay d'Arce".
As before noon there are soon some Scimitars taking a cooling-pause. Is weather in UK really that bad? I once was told they have only four sunny days a year: do they keep Scimitars in the garage those four days? I really feel sorry for the English!
Nice temperature, nice guided tour and...nice champagne. We didn't buy any though (forgot my trailer).
Back to the hotel Tony arranged for a faster drive (to prevent cooling problems I suppose). Still I always feel comfortable driving behind him, I know he could leave me behind without a problem (with my poor Sabra) but following an experienced driver learns me every time that the Sabra suspension isn't bad at all.
It must be stated, when it's about gastronomy one can learn a lot from the French. Sorry for the English, they can only eat a proper meal once a year: at the international (I mean snails, frogs and horse-steak.)
After dinner, chatting, enjoying the company was the only thing to be done.
And the obligate prize-distribution: the winner had found all the pictures. And there was the celebration of Geoff and Pam Eldridge for their 16-years of work for the RSSOC. Quite a mission for their successors.
Next morning (19/06) early up, breakfast en to the bus for the visit of Troyes.
Extraordinary how disciplined those English are! One minute after the departure-time we're on the road, try this with French (or Belgian??) people.
Nice guided tour we made, learned besides a lot about Troyes, that I'll have to enlarge my English vocabulary.
In short: Troyes was an important commercial center in the Middleages, has been forgotten for a while so quite some medieval houses in the center stayed upright (more or less) the ramparts are replaced by gardens and public parcs.
| | |
| --- | --- |
| Schepping van Adam en Eva | Dat is pas flamboyate gotiek! |
| Binnenplaats | Binnenplaats |
| Terrasje | Hotel |
Sabra (Startpage)