Sabra-Sabre Meeting in Holland (23/12/08 ) Back
08-09 September 2007
For us the meeting began on Thursday September 6th:
Geoff had things to arrange in France en he considered the trip all the way to Arnhem as a little too far in one day so he applied for an extra recovery stop in Antwerp.
Luckily we had already arranged an extra day off so on Thursday the roaring sound the only Sabre-4 with spaghetti manifold was heard on the Arthur Matthyslaan in Antwerp. The Golf-manual states not to park closer than one yard next to a English car (has something to do with contageous rust infection).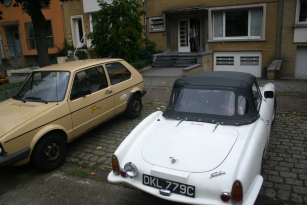 Els insisted on a trip to Antwerp with Geoff so we took tram 11 to the city center, drank a "bolleke" in "den Engel" (remember these names!), had a meal on the "Groenplaats" (Flamish shops). Another drink and back home. We had considered to pay a visit of honor to the Jacob Jacobsstraat where the importer of the Belgian Sabras had his seat, but nothing to see there anymore. So into the cars and off to Gierle.
In Gierle (often called Small Antwerp) we just had to pay a visit to the reknown pub "In Den Eyk", comparable to "den Engel". After "Julie" retired the pub had several owners but now Chris Piedfort is getting as reknown as Julie was. Chris suggested a Tipsy, and though there's bollekes too we simply had to taste the new beer; never seen hazelnuts and walnuts of that size (even before we started tasting the beer I mean).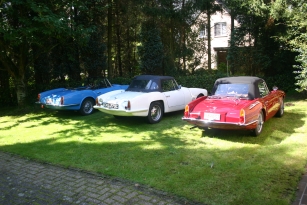 Next morning André & Carine joined us, all the way from Zulte - they had brought along buns - and Els served us a fish salad.
André suggested another route to Arnhem and though Els had been studying the maps for days she didn't mind to take André's route - she's getting a skilled navigator lately. Near Eindhoven it was tough driving among the big trucks; strange: in Belgium we have road signs to warn for jams ahead. In Holland they have signs to indicate highways WITHOUT jams. (Would they have a problem??)
One moment - at low speed - Geoff's car made a terrible noise: I expected anytime to see a connecting-rod projected through his hood. Before we halted the noise stopped and everything seemed OK. The leaver to keep the hood open wasn't fixed like it should..??. so we carried on, everything sounded fine.
At our arrival in Hotel De Uitkijk everyone was there already, kisses, handshakes, hi, nice to see you...
Nice, all those people that we know for years now and who, by their presence want to emphasize:
By different circumstances - by owning and driving a car like ours - we are connected with a part of our history 50 years ago. We want to keep that piece of history alive. By doing so we need to learn more, know more and do more than a normal driver does. By our respect for that history we drive in a car that would be unsellable nowadays, but that type of car was one of the steps that contributed to nowadays driving and nowadays traffic jams and traffic victims. Be it good or bad, fifty years ago a revolutionary step was taken in some direction (not only by Reliant). And the Sabra/Sabre was typical for that time.
For John I brought, and I'd like to show it, copies of the inner glassfibre part of the horns. Not perfect, and still quite a job to be done. Still I'm quite proud of my first glassfibre-moulding job.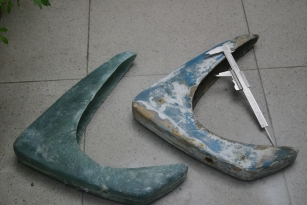 When people meet after a long time.....: Els and Sylvia show how it's to be done.
Next morning we left, following Jacques' road-map to Kleve, short strowl through the village.
The road description mentioned "Drive back to the main road". I didn't miss the left turn to the main road, I simply wanted to have a look at the nice tower of the church in that small village 10km away. People in that village still mention the day that those eleven-odd strange cars drove around the church and then back to where they had come from. After having had a look at the tower we drove back to the main road.
And further on to "Kurhaus Kleve".
Here we had three options: museum, walk in the park, beer. By coïncidence I was in the group that chose "beer".
Then, up to a cemetery of soldiers killed in the battle round Arnhem "A bridge too far".
Impressive: thousands of young guys slaughtered for a case that they say was "good". Motivated and ordered by their democratically chosen leaders - but we wonder: As the soldiers gave their life, did the leaders also give their best, did they search for the best information, did they take their decisions without prejudice, without any egoism, without thinking about personal gain?
The Sabra's were a little overwhelmed.
Further we drove to a pic nic spot.
The free parking had become a pay-parking (how on earth had the Dutchmen found out that we would be going there?).
And the walk through the reservation was cancelled by the rain. On the picture: "What decision to make?"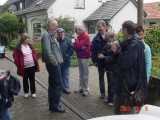 So we continued the trip through the inundation borders of the Rhine with, we're in "Holland": a ferry.
Back to Hotel De Uitkijk
And there we met two representatives of the Dutch RSSOC: Wim and Axel.


On Sunday we would encounter Erik too.
Nice way of supporting foreign visitors.
Next day (Sunday September 9th)...
We had to leave Luc & Monique behind (clutch-cable broken).
And at first we visited the "Airborne Museum Hartenberg", after a short walk through the "perimeter", where the landing actually took place.
The museum is really worth the visit, plenty of original films and pictures.

Afterwards we took a quick meal in the Hoge Veluwe park and then, on the bike, to the Kröller-Müller - museum
Was it 25 or 28 Van Gogh's they have? A museum like this you'd only expect in a big city.
Back to Hotel De Uitkijk, it's Sunday evening, the meeting has ended, but not the chats.
Next morning: pack and go:
Malcolm & Val drove further to France, some drove to Germany, others drove back home over Delft.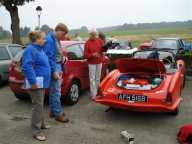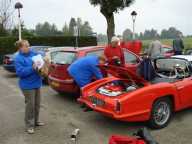 Luc & Monique took a ride back to Genk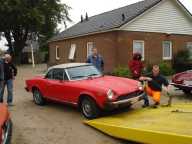 Luc's FIAT does tremendously many mpg! (says Luc).
We drove back direction Antwerpen (again, for some seconds that weird sound in Geoff's engine) and once passed Eindhoven Els remembered we have some nice memories visiting the "Postel" abbey. André also remembered "de Kaasboerin", next to the abbey. Coïncidentally it started raining and it looked like it was getting worse so what better reasons does one need shortly after noon to stop and have a meal?: Two cosy pictures and a nice one to end this report on.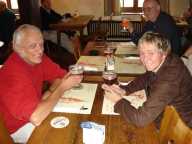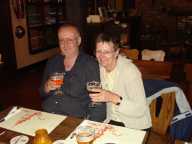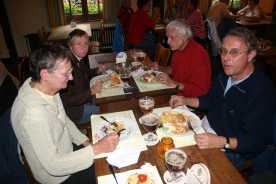 Till next year... In Antwerp(en)