Meeting in Voeren (23/12/08 )
---
TOUR IN EASTERN BELGIUM (VOEREN) 29 APRIL 2001
(as seen by a volunteer of the organisation)
7.55 Getting all the papers together, being ready since yesterday evening, 4 pages, an introduction page with today's menu, info about the tour, questionnaire and roadmap.
8.10 The SABRA stays top down, I take the risk, weather forecast reasonnable. Cranking a bit slow, I should look into it, engine roars at once and off we go to VOEREN.
8.30 Pick up my friend Willy in Tielt Winghe. Willy volunteered to help in a stop at the village Limbourg. He likes the ride and is always in for a good meal, so no problem getting him involved.
8.40 Emergency stop on parking lot along M-way because of heavy shower and getting our feet wet. Reluctantly the top up.
9.00 Parking at Lummen crossroads… the SE5 of Jef & Josée Vanlomme is waiting, Leo and his wife Marleen arrive a few minutes later, a SE6 and a scimitar/sabre 1.4. 4 cars , 4 different models, nice. A blue SABRA already passed, so Jef Neefs is going to try to reach VOEREN.
9.50 's Gravenvoeren, Café restaurant Blanckthys, who is here already? I see Jef and his wife Els strategically on the terrace, watching the arrivals. So the weather is nice, a good start of the day.
On the restaurant parking a few little groups are chatting; hello, good morning, nice to see you, how was the ride? The red SABRA of Henk Theeuwes is showing off with the hood open, showing shining bits and pieces; looks great as always. A red, a blue, my vanilla-cream SABRA, we have already three colours.
10.00 Confirm the practical arrangements with the restaurant owner; how many breakfasts finally, is the dining room, seems OK, the food looks nice and fresh. After all we are in Belgium.
A corner table will be my busy spot for the next hour or so. Participants come in, check in, get a ticket for the brunch and for dinner, check payments, make changes, one more, one less, talk to the owner again. Two new Scimitar owners need some info about the Club. Jacques Jacobs drops in for a coffee and a chat with Lieven Devuyst, now owner of Jacques' SABRA GT. Jacques drives his Jowett Jupiter today.
Herman Pauwels and Jef Neefs meet. Herman was the original owner of Jef's car more than 25 years ago. They have a few things to talk about. Gert Raes and his wife arrive too, another SABRA joining us. Nice red convertible, I'll have a chat later on.
11.15 Wim Deinum, the Dutch RSSOC chairman, welcomes everyone, most Scimitars come from Holland, I keep it short, those who want can start the tour from now on. I return to my corner and start counting… finance must be correct.4 subscribers did not arrive yet. One of them is Geert, the Dutch Scimitar and TVR specialist and mechanic; he comes from Leeuwarden, a long drive. Willy and I decide to wait till 12.30. At last time for a late breakfast. Excellent. The dining room empties and new clients arrive for an early lunch. I did not see the cars, more than 20, hopefully later today.
12.25 Here comes Gert, I arrange his brunch, and leave for Limbourg where I have my task. Top down again, this is cabriolet weather, Spring is here at last. We do the tour counterclock wise, the Abbey of Val Dieu is so nice. In Aubel I got a call, yes, SABRA's with mobile phones do exist, from Mr Ost another SABRA owner, who tells me he will come along in the afternoon.
A quick sum reveals a great success for the SABRA gang. 4 SABRA SPORTS on the road, 1 GT owner present, 1 GT owner coming to say hello, 1 PHOTO !! of the red SABRA SPORTS of Mr Leber in my binder. A never seen record in Belgian SABRA history. And then there are the Scimitars , all types are present, some 20 of them, and a 68 Jaguar S type, a 52 Jowett Jupiter, a TVR.
13.30 Limbourg in the sun. Already one Scimitar parked. They took a shortcut by mistake and are being put on the right track again. Jo has his gear-wheel game ready under the big lime-tree. Now the players to arrive.
They arrive; alone or in little parties, a black cloud gets us all wet, then sunshine brightens up all faces again. The little terrace at the bakers' with refreshments, well mostly it's belgian beers I can see, is succesful. The questionnaire hopefully too. Laughing faces all over the place, it makes one feel fine.
16.00 Back to Blanckthys. M Ost and his wife arrive. Time for a chat; they will come over to the restaurant too. Rather late, the Sabra sprints to the starting point. All parking spaces occupied, terrace also occupied!! Are they thirsty again??
17.30 Leo plans the last game and who forgot the gearwheel contest? It can be done here. Talks and laughter all over the place.
18.00 Dinner's ready. Cook's ready and no delay possible. The last game never was played. The food was an excellent compensation for the game. I have to talk to so many, It's not possible. Counting again, then the bill. All's well that ends well.
19.30 Wim Deinem says a cordial thank you to Leo and me, applause, then the Champagne for the winners and a bottle of Duvel beer for the most unfortunate, it was Geert the mechanic, who broke down.
20.00 Bye, bye, have a safe trip home, see you next time, bye Gerard, bye Jef, bye Leo and Marleen.
21.30 Home, the SABRA garaged. Tomorrow I'll talk this over with Leo.
Jacques Vandevelde
---
april 29th 2001
Sabra Repair in Voeren
28/04/2001 Last test: the Sabra doesn't want to go faster than 50mph, apart of that he behaves reliable.
Filled the trunc with tools, spare-parts, oil, water, fuel, brake liquid, old cloths, soap...
April 29th left home half past seven to drive 100 miles in two hours and a half. As the car kept doing its 50 mph we were much too early in Voeren, easily found Gasthof - Blancthys. Nice; they have a private parking-place, (that later prooved to be too small for all the cars).
Voeren is some small villages in a Dutch spoken part of Eastern Belgium (south of Maastricht) that isn't geographically connected to the rest of Flanders. For quite some years they had a french-speaking government. Only with the last elections, when inhabitants with Dutch (the Netherlands) nationality were allowed to vote, there's again a Dutch-speaking mayor (and no trouble anymore).
Forced to wait we felt forced to taste the local beer. After half an hour the first Sabra's and Scimitars were rolling in.
Didn't honour the marvellous breakfast, impolite as it is to speak while eating. But when you find yourself surrounded by car-freaks (amateurs like me but also professionals) breakfast has to wait.
Four Sabras gathered of the six that are ready for the road, this must be a record. Pity Lieven still has problems and André didn't get his car ready.
First test: lighting as many candles as possible with only two matches. One man felt his fingers (holding the match) burning and by reflex: blew out the match........ and all the candles he had lit.
On the road, wonderfull landscapes, small roads, wonderfull about a valley is that you can see the houses, streets, farms and barns on the other bank as if you were god. Hair-pin-curbes.... pushed the throttle a litle further, everything OK.
First stop, anyone passing by would have thought that a sudden MFD had stroke al theese cars, they all had their hoods open and groups of people surrounding them were watching the symptoms.....
Next trip, up the hill, down the hill wonderfull driving with a small car over theese roads, a curb like this should be taken at some speed ... until the Sabra said it had been enough. Having given it some rest carried on - much slower now. At the next stop replaced the ignition coil with one lended by Henk Theeuwes, with help of five and advice of over ten participants. Everything worked fine but kept an eye on the rpm.
Slowly to the next stop: Limbourg, parked as one in a long row of glassfiber-cars...how many models have they made??? Left the cars for a stroll through the historical village answerring some questions.
Time now for a longer chat with Herman Pauwels, the former owner of my Sabra. In fact the man deserves to be among the owners were he's gonna be soon after I get some old pictures of his (my) car. Sabra-fanatic in those days he was stopped once by the police and was told that winged hub nuts weren't allowed anymore in Belgium and that he could only avoid a ticket by selling the car "for demolition" or "for export". In fact Belgian law forbid dangerous ornaments. In those days wheel caps with look-alike winged nut and look-alike spokes were popular, and forbidden by law because they were useless and protruding further out of the cars' profile than necessary by construction. The police officer interpreted the law in his own way and Herman, law-obidingly acted as he was told to and sold his car against his wishes - for 5.000-BFr - to a mecanic that didn't mind to put "for demolition" on the contract. Some months later the same car - with several more or less vital parts missing (had they indeed started dismantling?), was sold to me, for 27.000-BFr (how to get rich). The car had passed M.O.T. , an institute that has the last word over any tecnical problem with cars. Herman Pauwels had passed several M.O.T.-tests the former years but the police officer claimed to know better. 25 Years later Hermans' sister heard me on the radio, asking for persons that new about or had a Sabra and immediately phoned to get my coördinates as she new Herman was anxious to gather any information about Sabras.
I heard Hermans' story when he phoned me and suggested him to have a chat with Jacques. Herman went to Jacques with all the cherished souvenirs of his old Sabra and Jacques discovered that Hermans' car was indeed Jefs' car.
Second test, assembling a bunch of pinions, good practice for dis-assembling gearboxes.
Next stop: Val-Dieu we missed a turn, the color printed map (very handy as navigating wasn't the test) showed us the right way, as we left the itinerary, realised that Jacques must have tested the roads also in his Sabra... they were all Sabra-able.
What to do when you visit an abbey where the monks brew a fine beer and there's a large terrace on the opposite side of the road................ quality control.
Back to Gasthof - Blancthys - 's Gravenvoeren - Holland must have forgotten to claim this wonderfull landscape in 1830. We in Flanders (first time I visit this region), indeed also have forgotten that little spot where we can only get through Wallonia or through the Netherlands.
A friendly Scimitar-driver provides me with a nut M8. Probably lost it when we got off of the itinerary and my outlet was threatening to drop off. Murphy arranged that I didn't have any spares of theese. Herman Pauwels, again examining his former car with great attention (looking for nostalgic remembrance) spotted the nut as missing.
Mr Ost passed by, has a Sabra that hasn't moved for 25 years, hope we ignited the restoration spark with the man.
Marvellous dinner, had we subscribed for a gastronomic weekend or for a Sabra-rally? Henk en Jeanine and Jef en Joseé don't know what they have missed, they may have seen Schumi win his race but Schumacher wins so many races. Should look it up in my history maps but I'm certain, just by the taste of the meal, that we were in the heart of historical Burgundy.
Another technical test, (should have played more with my son's toys), looked up several Sabras and Scimitars, some photographs, see you Herman, hope you'll get another Sabra one day.
Driving home, now ready to really test the ignition coil. First 50 mph, soon 55, 60, 65 the last thirty miles we drove at 75 mph eventualy got to ninety; no spark missed. Wonderfull day, fine weather, nice organisation, wonderfull landscapes, good food, some new pictures for the site and a repaired Sabra, what else could one expect of a rally?
Thanks Jacques, thanks to everyone assisting, thanks to the Scimitar Club, thanks to all participators.
And some pictures - saying more than a thousand words...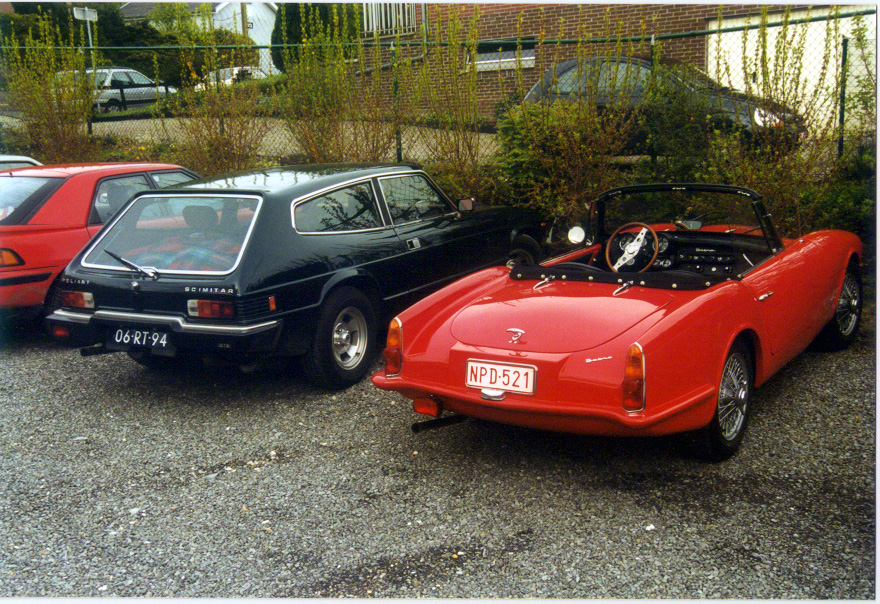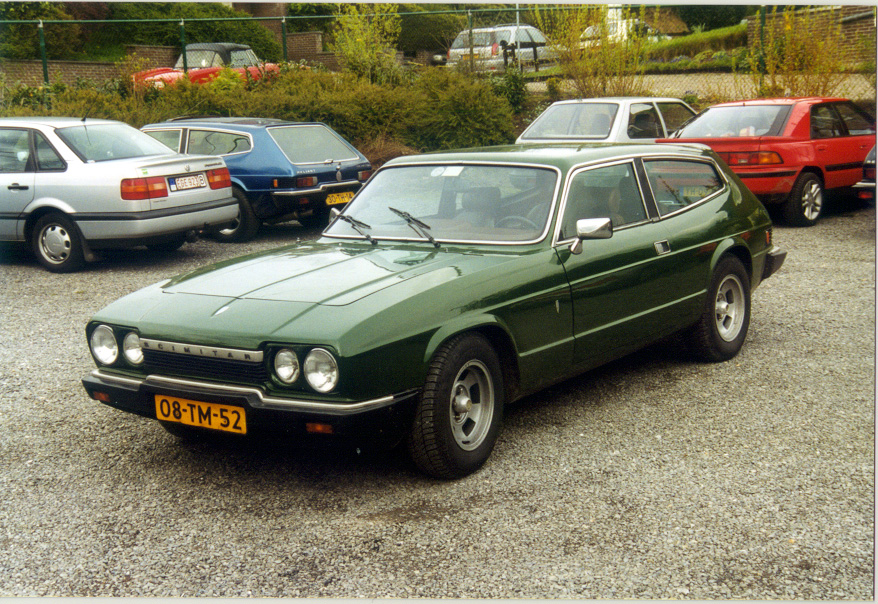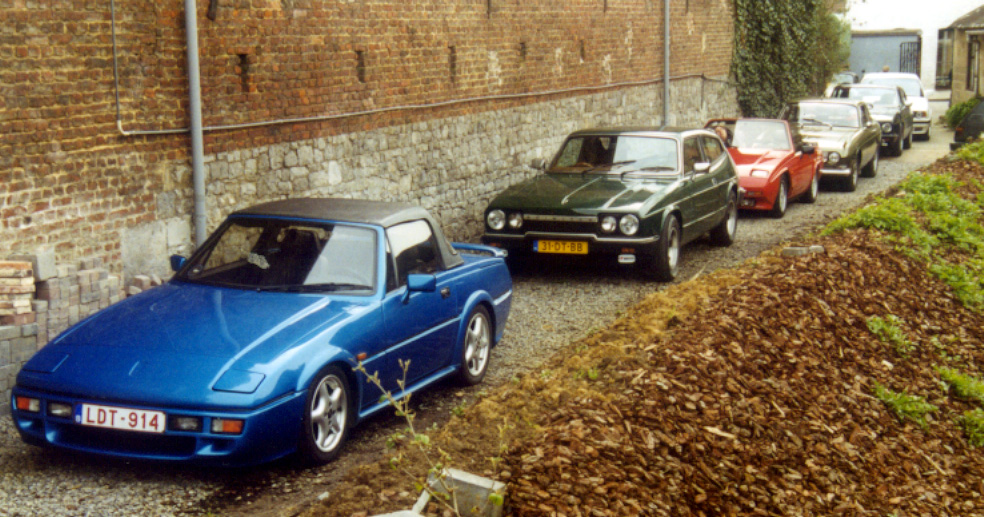 ---